How to trade a shift with a colleague on the mobile app
It is possible to trade a shift to one of your colleagues through PetalMD's calendar.
Trade a shift
1. Go to the Calendar section.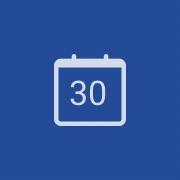 2. Click on My calendar.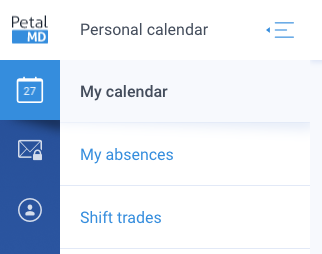 3. Click on the shift you want to trade.
4. Click on Trade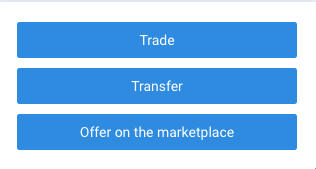 5. The list of members in your group who have the skills to do the selected task will appear on the screen at this time. It will also be shown to the right of each member if they are "Available", "Busy" or "Absent". Click on the one or many members with whom you wish to trade shifts.
6. Then, click on Continue.
7. Two options are available:
A. Send a Trade request by offering the task to be taken in return. Only if sent to one member.
B. Send a Trade request to one or more members letting the receivers offer you a shift in return.
8. Click on Send.
Your pending job will now be identified by the following icon.

If the shift was offered to many members
Withdraw my offer
1. Click on the pending offered task and then on Withdraw.
2. Confirm by clicking Withdraw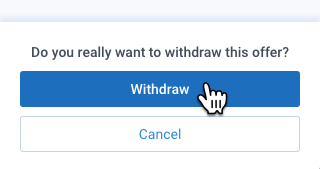 Withdrawal of the offer is possible as long as no proposal has been received.
Receiver of the transfer offer
1. The receiver of the offer gets a notification and sees this pending task on their schedule.
2. Click on this pending task to see the details of the proposed trade offer.
According to Option A of the offer that comes with a traded task selected by the initiator.
You can simply Accept or Decline this trade offer.

According to Option B of the offer that does not come with a traded task selected by the initiator.
Possibility for the receiver to withdraw their proposal or modify it if the receiver is the one who has offered the shift as long as it has not been accepted or rejected by the initiator.
The initiator can accept or reject the proposal if it comes from the receiver.
If there's an approval process for the transaction
If you have accepted the transfer offer but a third party has to approve the transfer, you will see this before the transfer is official.