In the Plan tab, there are different ways to assign shifts:
As a planner, you can ignore planning "problems". Once you have verified and considered any possible availability issues or constraints and taken appropriate action, you have the final word; the application will not block you from making an assignment. Warnings are simply there to assist you in the decision-making process.
To assign a member to a shift, the member's name can be dragged and dropped onto a cell. To proceed, simply click and hold the member's name from Equity table (right column) and move it to the cell where you want to add them and drop. The member's initials will appear in the cell.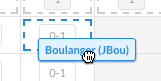 First, you must select a date and a shift by clicking on the corresponding cell. The selected cell, in which the assignment is to be made, will turn blue.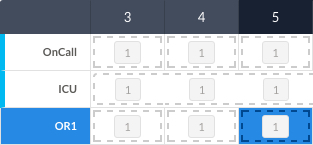 To assign a member, click on the arrow (which will go from gray to green) to the left of the desired member's name in the Assignment table found in the right column.