Distribution lists are a great way to improve and accelerate your work. They let you select a group of predetermined recipients often contacted together to quickly send a message or invite participants to an event. 
Two methods are available:
Static:  only the selected members are included in the list, and;
"Smart": always includes new group members. 
To create a new distribution list
From the Contact section, click on the (+) Create a new list link.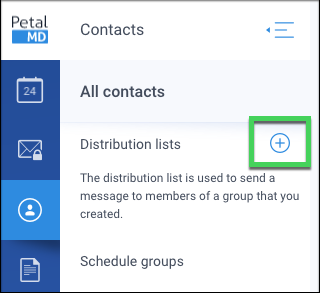 Distribution list configuration 
List Name: Type the name of your list
Reply settings: Configures who receives a message when recipients reply to messages you sent using the Distribution List.
Only me: Only you will receive replies from the recipients to whom you have sent a message.
All the distribution list members: Recipients reply to the whole distribution list. Answers will be threaded under your original message. All recipients will receive and see all messages of that thread.
People: Select specific members from your contact list. Creates a static list.
Groups: Creates a smart list; as new members are added to a group included in your list, they will automatically be added to your distribution list. 
Account types: Let's you determine which account types to include in the list. For all members of a group to be included to the Distribution List all account types must be checked.
Groups: Select the groups to include in the smart list.


Recipients from both the People and Groups sections can be used in the same distribution list. 
To finish, simply click on the Create List button (top right). This new list can now be used to invite participants to an event or as recipients in a message.